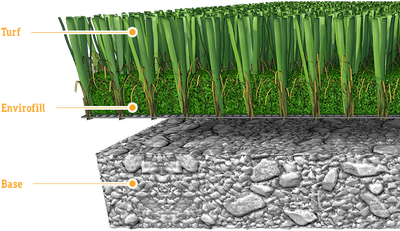 ENVIROFILL
EVERYTHING THAT GOES INTO ENVIROFILL HAS BEEN CAREFULLY CHOSEN FOR ITS SAFETY AND RELIABILITY.
The latest in infill product technology – a non-toxic, non-absorbent "synthetic soil" that's pet- and environment-friendly, preventing bacteria growth. Envirofill's trademark green silicone dioxide granules are cooler under sun than black crumb rubber and more sanitary than silica. Envirofill is a one-time application.
Inhibits pet urine odor---Microban significantly reduces pet urine odors by up to 99%. Microban has been scientifically proven to disrupt the bacteria process that coverts pet urine into ammonia odor. So be assured, Fido can go about his business worry-free.
It's cleaner. Microban antimicrobial protection is infused into Envirofill during the manufacturing process to help prevent the growth of bacteria, mold, and mildew that can cause stains, odors, and product deterioration.