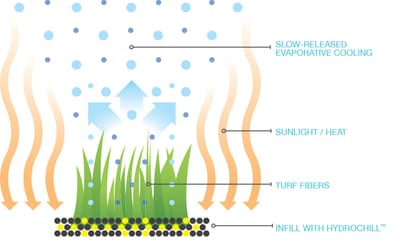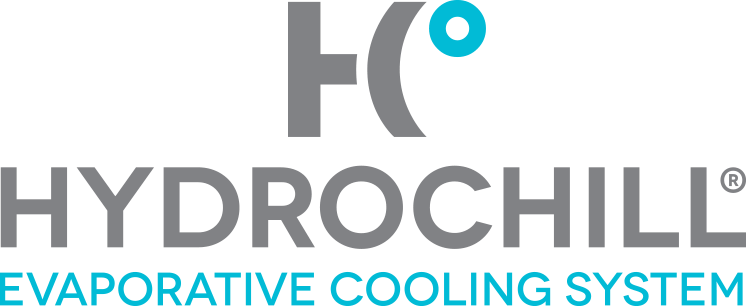 HOW DOES IT WORK
HydroChill is a patented technology that has been developed and vetted through years of research in both a laboratory, and real world, setting. HydroChill is a precoat that is applied to the sand infill. It is activated by adding moisture and can provide significant cooling for days, depending upon local conditions.
As the synthetic lawn surface is heated by the sun, moisture stored in HydroChill is released slowly through evaporative cooling. Evaporative cooling is the same means of thermoregulation that a body uses to cool itself through sweating. The evaporating moisture removes heat, leaving a cooler, more comfortable surface for families and pets.
The ambient temperature does not necessarily dictate surface temperature. The solar radiation time period, sun's angle, cloud cover, wind, and other elements all contribute to the temperature of the surface.
HydroChill provides maximum benefit when the sun is directly overhead, as shown in the solar radiation calendar. During the summer months, the sun is positioned overhead, causing surfaces to absorb more energy, resulting in hotter temperatures. HydroChill works best during the hottest part of a clear day when relief is needed.
A standard lawn with a wet surface will cause some cooling, but temperatures can quickly rise and may exceed uncomfortable levels of heat. A HydroChill lawn has been shown to create a substantial temperature difference in real-world applications. Although results will vary due to geographic location and local conditions, HydroChill has achieved 30°F – 50°F lower surface temperatures compares to a standard synthetic lawn surface.
Keep your loved ones cool and comfortable with HydroChill.
– HydroChill will not affect the durability or warranty of Shawgrass products.
– HydroChill is UV-resistant and should be retreated every two years for maximum effectiveness.